---
Bostik Blu Tack is a permanently plastic, reusable adhesive. Bostik Blu Tack is supplied in the form of rectangular slabs between sheets of release paper and packed in individual wallets. Bostik Blu Tack is clean and economical in use.
Holds up posters, cards, children's paintings, party decorations, maps, messages, etc. Telephones and calculators to desks, ornaments to shelves, photos in albums, screws to screwdrivers, model parts during painting,etc. System Safety Services has been using it for more then 15 years to hang up our posters during a workshop. One small piece in each corner and voila, the poster is hanging!

Holds safety pins, keys, screws, etc. flowers and candles in place for table and flower arrangements.

Cleans fluff from fabric and dirt from typewriters, model railway tracks, etc.

For use on non porous surfaces: vinyl coated wallpapers, painted surfaces, glass, and metal.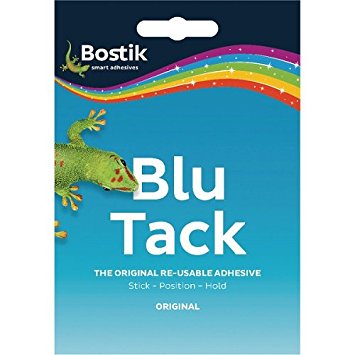 Click on the image to watch a video on Blu Tack
To order Blu Tack - please visit our shopping cart