Aviation Human Factors Industry News
The following weekly issues have been generously provided by Roger Hughes, President, Decoding Human Factors, Inc. - Congratulations to Roger on being awarded - The Charles Taylor "Master Mechanic" Award by the FAA
(click here to read his Autobiograhy)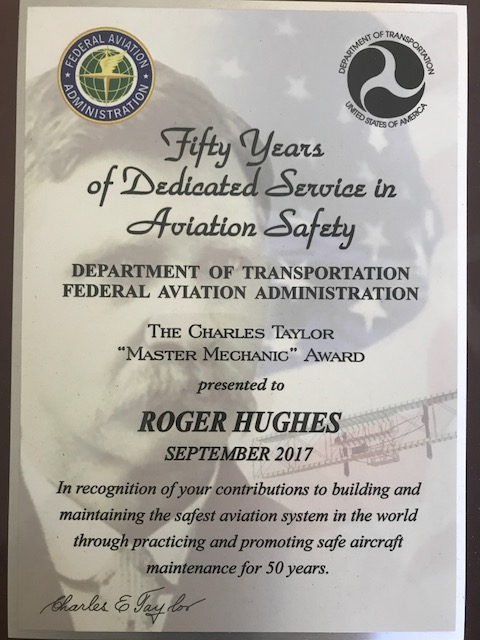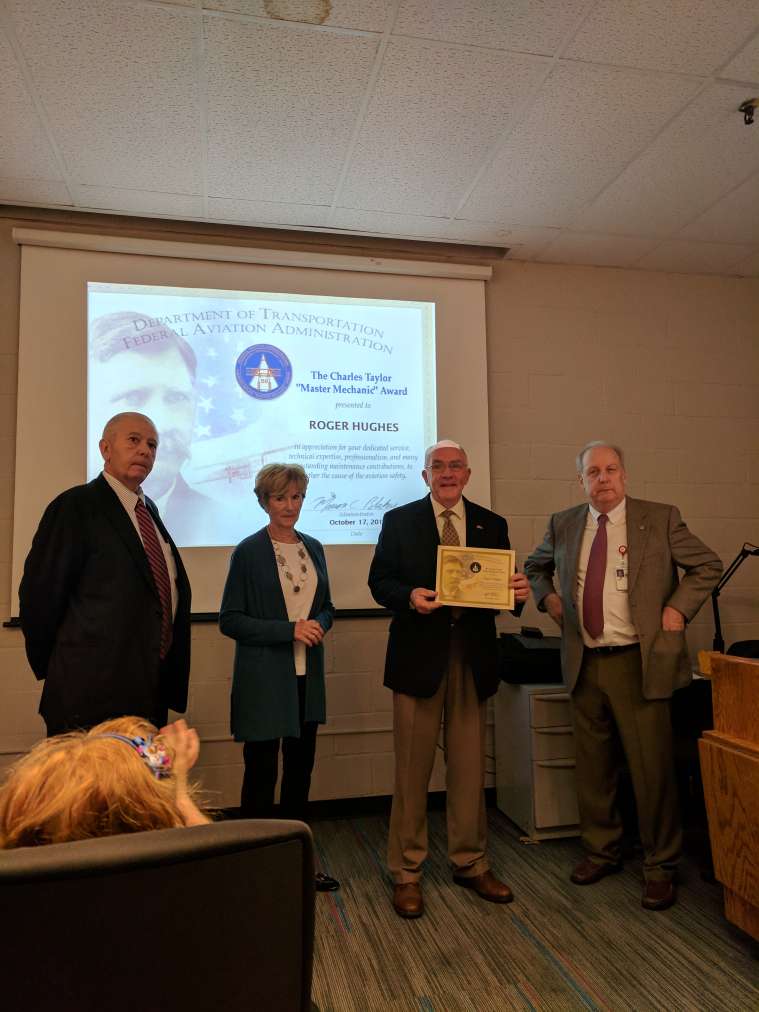 Click to see a larger image
They are excellent articles and deal with the all important subject of human factors. Please have a read and let others know of this site.
Check back weekly for the latest news and thanks Roger for sharing this information. Please share it with your fellow workers so we all can be just a bit Safer by learning from others mistakes.
Reading these can help maintain our awareness of Human Factors and remind us that "If we are Human - We also could make the error."
This is into its 16th year (2020) so there is a lot to be learned here.
Thank you Roger for your 16 years of hard work and dedication to the Aviation Human Factors Newsletter! We look forward to reading all the future editions in 2020. - Renée Dupont-Adam
2019
2018
2017
2016
2015
2014
2014
2013
2012
2011
2010
Volume 5, Issue 41b

Fallen airport worker may not have worn harness: union

(Lack of Knowledge?) One tiny hole may have caused Golf Hammock crash (Lake of Awareness)

Aviation Injuries, Aloft and on the Ground

and more...

Volume 5, Issue 41

Lighten up to protect airline workers from injury

(Lack of Resources) American Eagle, union tout airline's efforts to promote safety (Safety Culture)

Why Business Aircraft Operators Need to be Thinking About SMS Now

(SMS) and more...

Volume 5, Issue 40

Hangar Fire At Hooks Airport Injures One

(Not sure on a cause) Liar, Liar (Lack of Resources)

GAO Suggests Reporting of Workplace Injuries, Illnesses Likely Inaccurate

(SMS) and more...

Volume 5, Issue 39 Scholarship for Aviation Maintenance Technicians Now Available (Do you know someone?) 'MIRACLE ON THE HUDSON,' ANIMATED (Very well done)

Checklist culture helps improve patient safety

(Safety Net) and more...

Volume 5, Issue 38

Rag Entangles Tail Rotor Drive Shaft (Distraction?) Emergency slide falls from Airbus A319 mid-flight (Maintenance Error)

NTSB Chief Urges Fight Against Fatigue

(Fatigue) and more...

Volume 5, Issue 37

Air crash museums keep dark memories alive

(Excellent way to preserve life) Under Pressure (pressure and how to deal with it)

How do I know when fatigue is affecting my performance?

(This is a important read) and more... Once again, thanks Roger!

Volume 5, Issue 36

Welcome to the FAA's Maintenance (MX) FATIGUE section

(Excellent for anyone interested in Fatigue) Qantas safety fears as engineers vote work ban (more on Fatigue - get the idea of how IMPORTANT this subject is?)

AEA Says Safety Management Systems Unwieldy

(SMS) and much much more

Volume 5, Issue 35

About CHIRP

(Confidential Human Factors Reporting Program) Aircraft Maintenance Incidents on Rise (Excellent)

Midnight Shift Nugget

(Caffeine control) and much much more. - Once again, thank you Roger!!!


Volume 5, Issue 34

Human Factors Training is just common sense, or is it?

(Great author) Cockpit Interruptions and Distractions (Distraction) Control and Actuator Locks/Pins - FAASTeam Maintenance Safety Tip (Safety Net) Best Practices! and much much more.

Volume 5, Issue 33

Pilots, Airlines Push For Nap Time

(Fatigue) Human Factors: Beyond the "Dirty Dozen" - Part IV (Excellent) Sleep Myths and the Truth: Snoring (More on Fatigue - this is an important article to read) Top 5 Causes of Motor Vehicle Crashes (Human Factors can affect motor vehicles too!) and much much more.

Volume 5, Issue 32

Brilliant Work (Fatigue Management) Fatigue Awareness Calendars (Excellent)

Maintenance problems caused F-16 mishap

(Was it Lack of Knowledge?) The School of Hard Shocks (Pressure) and much much more.

Volume 5, Issue 31 Top 10 Barriers to Near-Miss Reporting (SMS) Human Factors: Beyond the "Dirty Dozen" -Part III (More about the Dirty Dozen)

Error Study Points to Humans

(Human Error) Today Show Looks at Drowsy Teen Drivers (Fatigue again) and much much more. - Once again, thank you, thank you Roger for all your hard work.

Volume 5, Issue 30 Poor Maintenance caused F-16 failure (Human Error) Cockpit Chatter Cited in 6 Crashes (Distraction)

Maintaining Awareness

(Awareness) Runway Safety Summit (Fatigue again) and much much more.

Volume 5, Issue 29

Understanding Aviation Safety Data

(Risk Analysis) NTSB tells workers to hang up cells (Eliminate distraction)

Alcoholic Beverages and sleep

(Fatigue) Transit Accidents linked to sleep disorders (Fatigue again) and much much more.

Volume 5, Issue 28

American Airlines caught in drug sting

(Not Fit to Work) A Near-Miss - "Red Flags" Not Heeded. (U.S. Navy) (The child at work)

Controlling Consequences of Errors Through Assertiveness

(The Title Says it all) Overlooked trim led to 737's post-V1 abort (Distraction) and much much more. Great job Roger and thanks

Volume 5, Issue 27

Post Article Examines "Crash Pads"

(Another solution to Fatigue?) Post Maintenance Flights are Critical (It's all about the metal attitude )

Human Factors: Beyond the Dirty Dozen - Part I

(A MUST READ) True Leadership different from culture of command (Different cultures) and much much more. Another fantastic job Roger and thanks

Volume 5, Issue 26

Mech magazine - US Navy Mishaps

(Worth reading as they are human to) Developing a Safety Management System (The next step to reducing Human Error)

Naha jet fire laid to faulty Maintenance

(For want of a washer - an aircraft was lost) Human Factor Techniques to survive a downturn (This is a must read) and much much more. Great job Roger and thanks

Volume 5, Issue 25

Marines Say Helicopter's Fatal Crash Preventable

(More Human Error - Lack of Communication) Human Error and Technical Fault blamed for Spanair Crash that killed 154(The Dirty Dozen at Work)

When Shortcuts become the Norm

(Norms) Air Safety plunges in first half of 2009 (Why?)

Volume 5, Issue 24

NTSB issues final report on 'sleeping pilots' case

(Fatigue - Sleep Debts) Counteracting Complacency (More on Compacency)

New Alarm Clock Tracks your Sleep

(More on Fatigue) Midnight Shift Nugget (What to do?)

Volume 5, Issue 23

The NEW Maintenance Dirty Dozen Posters are here

(and they look fantastic) Unsecured Cowling Detaches and Hits Tail (Distraction)

A case of Miscommunication

(The Title Says it All) Report Fault's Air France's Safety Record (Safety Culture)

Volume 5, Issue 22

Aviation Maintenance is Closing Up it's Print Shop

(Will still be online) Night Shift Daddy (Fatigue)

Is Better Performance Just a Dream Away?

(Fatigue again?) Lockout and Tagout (Safety Nets)

Volume 5, Issue 21

New FAA Safety Culture Reported in Operational Error Reporting

(SMS is a must) CALLBACK - Dirty Dozen (The Big ones, Fatigue & Distraction)

Emirates Pilot Tells Story About A340 Tail Strike

(Again, Fatigue played a role) Unreported Near Miss Re-enacted in Fatality (An SMS again is a must)

Volume 5, Issue 20

Is there a (757) Doctor on board?

(Great to be a hero now and again)

CAA UK publishes Aircraft maintenance incident analysis 1996-2006.

(Not good news reading but useful to learn from) NTSB delivers 2008 annual report to congress. Nuts and bolts newsletter. (Highly recommended reading)

Baggage handler to jail for embezzlement.

(Not the way to supplement your income)

Drowsy driving: Detection and prevention and much more.

Thanks Roger. Great job.

Volume 5, Issue 19

Human factors emerge as trend in air crashes: expert.

(Training is ALWAYS a Safety net)

Tobias Aerospace Shut Down

(English is the language of Aviation)

Deadly 2007 Plane Crash in Brazil Blamed on Human Error.

(Pressure leads to 199 peoples deaths)

And lots more.

Volume 5, Issue 18

NTSB's Rosenker discusses FAA's role in oversight of commercial air carriers. Everyday survival: Why smart people do stupid things.

(Good question but you have to buy the book to get the answer)

Improving assertive behavior.

(We can always use more of that)

Midnight shift nugget.

(These are always valuable)

And lots more.

Volume 5, Issue 17

Computer Failures are probed in jet crash.

(We humans aren't the only things to fail or did we contribute?)

Maintenance error caused Ohio plane crash.

(Once more)

FAA Safety alert focuses on tire pressure.

(Go to Safety videos, #1- "Death of an Airline" case study to see what one low tire can do)

Gas trimmer torches C-182. Diligence in Mundane things. And much more

Volume 5, Issue 16

Ramp design error a setback for remodeled airport.

(3 ft. is a big human error)

Fall proves fatal to FAA employee. Engine on Navy E-6 sets military aviation record.

(If only we human could be a reliable)

This is the best I have ever heard on "life explained."

(Well worth reading)

And much more.

Great job Roger.



Volume 5, Issue 15

Congressmen act on English speaking airplane mechanics.

(Good)

Safety glasses save AMT's eyesight.

(That's what they are for)

Maintenance Mishap summary.

(An error caught before it could kill)

Whack-A-Mole.

(This is a great book that I highly recommend written by a dedicated industry Safety expert)

And lots more.



Volume 5, Issue 14

News station's aircraft mechanics probe.

(You should READ this one)

Big clue: Maintenance placard.

(There's a reason why things are tagged)

Stay well to do your job well.

(Makes a lot of sense)

Sleep drive and your body clock and more great stuff from Roger.



Volume 5, Issue 13

Report critiques FAA Oversight of aviation safety action program.

(Still a great Safety tool)

Remember Flight 191. Woman excels in man's world of aircraft mechanics.

(Women are only 2% of the maintenance workforce)

Clogged fuel filter and poor inspection causes of fatal Millville airplane crash.

(Proper maintenance and this would not have happening)

Worker falls to his death at Miami International Airport.

(This should not be happening)

And lots more



Volume 5, Issue 12

Plane crash kills seven in Congo.

(Maintenance or lack of, once again)

Report: Kalitta B 742 at Newark on Apr 19th 2008, engine fire.

(Again, lack of maintenance)

Metal baggage container sucked into jet engine at LAX.

(At least it wasn't a human)

N432AW CL60 vs bagcart.

(No winners here)

And much more real good stuff.



Volume 5, Issue 11

AMT day: A proud heritage.

(We have a lot to be proud of)

NTSB: Crashed Convair 580 had reversed elevator trim cables.

(Maintenance error again)

NTSB: Open baggage door downed Chieftain.

(And again)

Probe hears flaws in fatal plane crash and much more.

Thanks Roger



Volume 5, Issue 10

THY 737 altimeter fault occurred several times before crash.

(Maintenance likely contributed here)

Proud member of the "Dirty Dozen" – Lack of Communication. Safety More than just rules.

(Fatigue is in there)

Real life tips for improving alertness on the night shift

(These are all helpful)

and much more

Volume 5, Issue 9 PHX Dash 8 Mishap - GPU vs. Prop. (Everyone lost but no one hurt) "Tailstrike" may write off A340. (Did Fatigue play a role? See next article) Pilot "barely slept" day before Emirates near-disaster. Mechanic charged with falsifying FAA credentials. (He was never an AMT) Probe into Virgin A340 bar fire finds wire protection missing. (Likely for a long time and no one noticed) and much more. First Class. Thanks Roger

Volume 5 Issue 8 Cockpit Fire Damage ASA Bombardier CRJ-200. (Not lightning like most of the articles and pictures on the internet suggest) American Airlines made mistakes before. (The Maintenance Dirty Dozen strikes again) Loose Fastener Causes Control Disconnect. (Out of date manuals played a big role = 4 dead) Procedural Error and Non-compliance in Maintenance. (The title says it all) and much more.

Volume 5 Issue 7 Tunisian pilot who prayed as his plane went down jailed in Italy. (The mechanics who made a honest mistake got 8 years) Study finds criminal prosecution following accidents damages safety. (This is so true but revenge for the error is the norm in our society) Accident: Arrow Cargo DC10 dropped parts of engine on houses. (Not due to a Maintenance Error I hope) and lots more. GREAT job Roger.

Volume 5 Issue 6 Easyjet Plunged 10,000 ft on Test Flight. (That's what test flights are for- to catch maintenance errors) Post Maintenance Test Flight Crash. (High price to pay for your error) Bad Altimeter a Factor in Netherlands Plane Crash. (They had warnings that were ignored) French Concorde Crash Manslaughter Trial to Begin in Feb. 2010. (That will do nothing to improve aviation Safety) and a whole lot more great stuff. Thanks Roger.

Volume 5 Issue 5 The real good news is that Roger is back and you'll see a BIG improvement in layout and content. THANKS Roger for the great work. ANZ Highlights Evidence of Sensor Failure on Crashed A320 (The big question will be what, if any, role did maintenance play?) Mechanics Error Cited in Fatal Crash. (Our worst nightmare) BA Ground Workers Charged in A320 Hit-And -Run. (What is the company culture that might encourage that decision?) NTSB Blames 747 Flight Crew for 2005 Nose Gear Accident. Fatigue Factor in B737 Runway Excursion. (We keep underestimating its effects) Breakfast - Don't Leave Home Without it. And much more.

Volume 5 Issue 4 Report Says Mechanics Missing in Human Factors Efforts. (We can sure help there) EMB-110 Down in Brazil's Amazon Basin. Lawsuit Filed in January 29 Seneca Downing. (A major hazard of our profession) Qantas Fires Another Fake Engineer. (What people won't do to get into our profession) Cessna Mechanic Caught Stealing Parts, Selling Them on EBay. (Not the way to supplement your income) and more including a cartoon at the end

Volume 5 Issue 3 FAA Applauds Agreement that Reinstates the Aviation Safety Action Program (ASAP). (Now that is GOOD news) Airman looses 115 Pounds in Order to Work on aircraft. (More GOOD news. Our industry could use a few more with this level of dedication) Sailor's Families Want Answers in Helicopter Accident. (Sadly, likely maintenance played a role) Too Many Emails Fog the Brain. [Now I have an excuse for foggy brain) And much more. Be sure to check the pictures at the end.

Volume 5 Issue 2 The good news is that Roger will be back soon. Aircraft damaged in hit and run incident. (Likely a "Blame Culture" behind this one) First flights from Baghdad to the EU. (Good news but not my vacation choice yet) Northrop Grumman sued over Mallard crash. (60 years and the lawyers can still come after you) Military controller's trial a lesson in tea totaling. (Can't even trust tea to drink) And more

Volume 5 Issue 1 1.5 Billion people fly without a fatality. (That's the good news) French Concorde crash manslaughter trail to begin in Feb. 2010. (The bad news as it will do NOTHING to advance aviation Safety) Manslaughter charges filed against fire people. (More of the same - Revenge) First lawsuit surfaces in wake of PHI s-76 crash. (This one is for money) Cessna to slash 2,000 more jobs. (That's a lot of people, some who will not come back to our industry) and more

2009 May everyone have a Safe, Healthy and Happy 2009 (And WOW; Over four years of aviation Human Factors news here)

Volume 4 Issue 49 Mechanic sentenced for fraud, money laundering. (Always sad to read this) Former Qantas engineer jailed for faking credentials. (This illustrates just how valued your license is) NTSB: Air Wisconsin Philadelphia gear-up landing followed maintenance. (I wonder what caused this simple unintentional error) and more.
Please read the Good News, Bad News article and may everyone have a Safe, Healthy and Happy 2009

Volume 4 Issue 48 Misconfigured A330 flight computers led to severe hard landing. (Maintenance error installed the wrong box -Some Murphy-proofing needed here) Investigators look at recent paint job in ANZ accident. (But after 2 hrs flying?) NTSB: Wake turbulence from 767 likely caused Mexican Lear crash. (The invisible killer) Judge who coined famous phrase to get Safety award. (sadly,it can be used on more than just this accident) Don't take chances with hydraulics. (Skydrol in the eye really smarts - I know first hand) and much more.

Volume 4 Issue 47 Defective fasteners installed on Boeing 737's. (An expensive Human Error) Lack of Knowledge. (Good lesson story) When times get tough; cut human factors training. (Sadly, all too often done) Cowling separations. Bringing the message home to your crewmembers. (Human factors training, done right, is for more than just work) Flight student killed by airplane propeller. (Sad) Aviation stress and fatigue study and much more

Volume 4 Issue 46 In Memoriam: William F. O'Brien. (Aviation has lost a great mentor for Safety) NTSB Issues update on near collision. (10 ft is waay too close) Police Investigation Assigns blame for plane crash that killed 199. (This will do nothing to prevent a reoccurrence) Fatal air crash report points finger at Transport Canada. (Sadly they are often an early link in the chain of events that lead to the accident) Coroner attacks systemic failures that led to 10 deaths. (More early links) and a lot more as always.

Volume 4 Issue 45 NATA's Russ Lawton on Safety Management System requirements. (Its the next step to reduce human error IF done right) Engine nut loose before TV copter crash, feds say. (Another preventable maintenance error) Man agrees to stay away from airplanes. (Good) FAA renews, toughens warning to Boeing 737 pilots. (We humans ALL require constant reminders) Drowsy Driver Consequence. (Fatigue - the #1 contributing factor to human error) and much more. Great job Roger. Thanks

Volume 4 Issue 44 Cyprus to prosecute five people over airplane crash in 2005. (Revenge that will do nothing to advance aviation Safety) Accident reports should include mechanic's details. (They do it for pilots) Broken trim tab causes severe vibration (That vibration can also lead to loss of flight control and aircraft) Lack of Resources. (Our "can do" attitude can get us into trouble) NTSB wants Safer medical flights. (Don't we all) Learn and Earn. (After reading this go to the "Death of an Airline" training video case study) and, as always, much much more.

Volume 4 Issue 43 Your personal contribution to Safety. (We all have a vital role to play) Required reading.(It is) NTSB issues update on business jet accident in South Carolina. (Did maintenance contribute to the tire failure?) Active listening during shift turnover/handovers. (And any other time) Ten worst aviation disasters in history (Human error played a role in each one) and much more as always.

Volume 4 Issue 42 FAA creates "Lessons Learned" online database. (This is a must checkout item so we can learn from past mistakes) Regional jet maintenance truck collide at ORD; 3 injured. (Fatigue contributed?) Compliance Matters. NTSB: Aviation fatalities down. (Now that's good news) Nose wheel mishap: DGCA suspends maintenance engineer. (That's bad news as he likely forgot the washer hidden in the old grease) Economic stress takes toll on emotional, physical health. (Manage stress or it will manage you) and so much more.

Volume 4 Issue 41 Mechanics face manslaughter charge for Madrid air crash. (I hope they aren't going to become convenient scapegoats) Medical helicopter crash: It has happened again. (Once is too many times) Jet fire under investigation - Update. Update: Oxygen bottle ruptured Qantas 747. (That could have easily been a lot worse) You're Safer on a plane. (Interesting stats that make hospital visits scary) and much much more.

Volume 4 Issue 40 Man hospitalized after airport fire. (A maintenance test gone wrong) Pilot Error not to blame for Madrid air crash. (Sadly, the human will be in there somewhere) Leaking hydraulic line sparked Osprey fire. (Not the first time that has occurred) TSB finds 8 factors in crash (This one is real close to home) Lack of Awareness and Teamwork. (A human error with a happy ending - no accident) and much more as always. Thanks Roger.

Volume 4 Issue 39 Qantas engineer's false safety checks. Qantas baggage handlers sue over work injuries. (Both not the headlines any company wants) Airline maintenance cuts "threaten safety." (The ole try & save now but pay a lot more later) 5 things you didn't know: Plane crash. (Very interesting; specially the odds) No more blame & shame (The medical are learning from us) and much more.

Volume 4 Issue 38 Revealed: Damning new evidence of fatal flaws in RAF death crash Nimrod jets. Convair 580 crashed on first flight after cable-rigging check. Human error shatters Westair 41 year Maintenance record (the human again). COD Cater Object Damage.

Volume 4 Issue 37 Bad fuel-line coupling suspected after fire wrecks 747. (I suspect bad maintenance error ) Madrid crash investigation finds wing flaps failed. (No the human failed) Lessons learned, says owner. (Very expensive lesson) DOT report says FAA should avoid "nasty shocks." (Better referred to "overkill or kneejerk reaction") Line technician killed by turning prop. Leaking fuel pump fitting causes explosion. (Another loose B nut - read "Price of a Mistake" video case study to see what can occur) and much more including more Fatigue information.

Volume 4 Issue 36 Aircraft mechanic gets prison for fraud. (Well deserved) Qantas pilots seek role in maintenance. (They have one - report problems) Madrid air crash investigators explore "pilot error" possibility. (But did maintenance set them up with no warning horn?) When a tragedy becomes a crime. (This does nothing to advance aviation Safety but promotes the "revenge mentality.") Some great stuff on the worse of the dirty dozen - Fatigue and much more.

Volume 4 Issue 35 Fuel blast probe reveals workers fatal error. (4 unnecessary deaths) FAA recommends "Re-evaluate" tugs involved in near miss. (Good idea when 2 aircraft come within 25 FT of colliding) Missing washer destroyed aircraft. Interim report of British Airways B777 crash. (It doesn't look like maintenance played any role) Improvement needed after Qantas maintenance review. Flaps not extended on ill-fated Spanair jet. (Why didn't the warning horn sound?) and much more

Volume 4 Issue 34 Regulators seek $18,000 penalty for United. (That's an expensive maintenance error) Crash of Itek Air B 737. (They were banned from Europe for a reason) Spanair crash probe update. Air tour Maintenance. (Lack of Knowledge can be deadly) Geography lesson for pilots and travelers. (This is worth going to) More sleep equals fewer mistakes for hospital interns. (Note their hours of work) and much more as always.

Volume 4 Issue 33 Cargo door opened in flight. (Not a reason to die but they did) Pilots furious over TSA damaged airplanes. (So would I be) Crash of Spanair MD82. (Sure hope that maintenance didn't contribute to those 153 deaths) Safety concerns about European airlines. (90% of snags occur on the final flight of the day - get-home-itis?) and lots more including the usual midnight sleep nugget. Great work Roger!

Volume 4 Issue 32 Maintenance Brotherhood. (That is a display of professionalism to a fellow professional) US Airways employee dies in mishap. Fatigue continues to cause accidents. (Fatigue is easily the #1 of the dirty dozen contributing factors to human error) Identifying who survives disasters - and why. (The secret? Being mentally prepared) Why do doctors kill more people than airline pilots? (Hospitals are 33,000 times more dangerous than flying) and much much more.

Volume 4 Issue 31 FOD blamed for Learjet accident. (but maintenance contributed) ICAO wants "just culture" Safety reporting and investigation global. (So do I) FAA: L.A.B. negligent in maintenance. (Read where the micrometer was) The severed wire bundle case. (Now that qualifies for Reckless behaviour) Midnight shift nugget. (Alcohol & sleep don't mix) and much more.

Volume 4 Issue 30 Three planes collide, damage in millions. (No one killed at least) Plane makes an emergency landing at Sea-Tac. (I wonder if Pressure was a contributing factor?) Pilots ignore alerts over faulty planes. (Its called "Get-home-itis") Gimli Glider revisited. (I remember that one well) and, as always, much, much more.

Volume 4 Issue 29 Inquest. (Another unnecessary death) Sweat the small stuff. (The secret to a successful SMS) Crew believed that the gear was down. (Saved by a "gut-feeling") Dual engine failure cited in B 747 crash. (Maintenance or Pilot or both error?) Hospitals work to cure errors. (They're human also) and much more. (Great work Roger; Thanks for sharing)

Volume 4 Issue 28 US seeks to improve runway Safety. (Great idea. Traffic lights for aircraft) Kalitta engine fire. (Maintenance or lack of?) NTSB Safety recommendations. (All for these) From nose to tail. (All to easy to do) FAA multimedia tools for human factors presentations. (A real good start and the price is right) American spends $20,000 per minute on jet fuel. (Wow. Won't complain so much when I fill up) and much more

Volume 4 Issue 27 NTSB investigation into Senator Obama airplane. (This could be maintenance) NTSB updates 767 cargo plane fire. (Sure fortunate that it occurred on the ground) Industry threats and Stress. (As the price of oil goes up so does everyone's stress) Conviction denounced. (Great way to encourage persons to hide their errors) Surgeons, pilots trade Safety ideas. (Well worth reading) and lots more as always.

Volume 4 Issue 26 Continental to stand trial for Concorde crash. (That will be a lawyer orgy) Nosegear collapses during towing. (Miscommunication with ground crew that will be very expensive and very avoidable) SMS on horizon in aviation industry. (Done right, it will further lower our accident rate) Workplace. (An interesting article) Napping. (The Power Nap - A must read and heed) and much more.

Volume 4 Issue 25 Maintenance needs Professional Standards. (I agree with John Goglia there) Navy maintenance mishap. (Add bullets to your daily hazards) Ten most tragic celebrity air accidents. (Who can forget the day the music died) Do not mix oxygen & oil. (The picture tells it all) and lots of other great information thanks to Roger and jetBlue

Volume 4 Issue 24 Mechanic dies in engine accident. (Not a good way to end ones career) NWA mechanics at fault in cowl incident. (Why did the pilots continue the flight?) FAA told to address crew fatigue. (Long overdue) Sudan crash probe underway and much more.

Volume 4 Issue 23 B-2 crash caused by waterlogged sensors. ($1.4 Billion $ up in smoke due to a lack of "Tribal knowledge." Lack of Communication at its worse) NTSB recommends Fatigue Management System. (Sure agree there) Airplane heal thyself. (Science Fiction coming true?) FAA progresses toward Safety Management System. (Will the trust be there to make it work?) and lots more.

Volume 4 Issue 22 Air France sues over crash. (The pilot always makes the final decision) Pilot dies after technical fault not reported. (Little things can become big fatal things) 3 AMEs suspended for nosewheel crash. (Must have done it on purpose?) Wanted Aviation Mechanics. (Who like lots of stress and low pay but love airplanes) and lots more. Thanks Roger.

Volume 4 Issue 21 Mishap ruins new chopper. (And someone's career?) 747 crashes on take off. (Lucky no fire or injuries) Tragedy won't be repeated. (Wonderful when we actually learn from our mistakes) And much more


Volume 4 Issue 20 Missing bolt causes nosegear up landing. (Another human error) Navy Maintenance mishap summary. (Forgotten tools are a universal problem) US DOT calls for better FAA/Airline coordination on AD compliance. (Thousands of passengers would agree with that and so would I) Criminalizing air accidents blocks air Safety. Don't let a hospital kill you. (This is a must read) And much more.

Volume 4 Issue 1 Engineers suspended for nosewheel crash. (Not the first time this has happened) Bad wiring caused crash. (A miniature SwissAir?) BA 777 had low fuel pressure. (Now the hard part - Why?) ATC at fault in fatal crash. (They're human too) Airline fined for workplace safety violations and lots more.

Volume 4 Issue 18 AMT day passes house. (One step closer to well deserved reality) Time pressure situation. (Easy to do and easy to prevent) Community service for crash manslaughter. (Appropriate for a non criminal act) Danger on the ground. (With my $200 car GPS accurate within 10 feet why do we have runway incursions?) Safety Medical Organization adopts Aviation methods to reduce errors. (I'm all for that) and a lot more good stuff. Thanks Roger.

Volume 4 Issue 17 Airport failed to spot jet damage. (Unclear manual and inadequate were the contributing factors) Warning issued on planes mechanic fixed. (There's a mechanic in a lot of trouble) Nigeria: Poor aircraft maintenance hinders Aviation Safety. (Corruption doesn't help either) work hassles impact sleep. (Any hassle will) and much more.

Volume 4 Issue 16 Investigators find more faulty wing fasteners. (Maintenance or design fault?) Aileron rigging error missed on preflight. (Missed on the required independent inspection also) Mechanic accused of falsifying records. (1 mechanic - 4 helicopters would require "pencil whipping" IF you wanted them all to fly) Mistakes killed parachutists. No leniency for blatant AD abuse (Define blatant) and much more. Thanks Roger and jetBlue for your hard work preparing this.

Volume 4 Issue 15 French prosecutors want to charge Continental employees with manslaughter. (Revenge or to be seen to be doing something?) Inquiry looks at FAA actions after mechanic killed. NTSB aviation accident statistics. (We now kill more mechanics than passengers) Tire falls from helicopter. (They make cartoons about this) Fatigue can be fatal. Employee killed on ramp. Top 10 most dangerous jobs (Check out # 2 and take up mining)) and much much more.

Volume 4 Issue 14 Mechanic dies. Qantas worker dies. (We work in a dangerous industry where one misstep can be your last) Offside ASRS report. (Maintenance can cause runway incursions as well as pilots) Can airport nightmare happen here? (This is a must read for all Canadians - and I like to think the answer is no) Just Culture system for nurses and much much more.

Volume 4 Issue 13 Classic traps. (The forget the unimportant washer trap) Adam Air final report. (It resembles Eastern Flight 401 all over) Brake problems led to skid. (Crossed wires usually end in unwelcome surprises) Canadian crash court attacks airline culture. (It's always there in the background) Sound effects. (If you snore or know someone who does read this one) and lots more. Great stuff Roger. Thanks

Volume 4 Issue 12 Man killed didn't follow the rules. (Rules are there to act as Safety Nets to keep you alive) Pilots possibility asleep during Hawaii flight. (If you are fatigued, eventually you will sleep and it may not be when you want to) NTSB tired of inaction on fatigue. (So am I) Parts left behind. (Maintenance will take a hit for that delay) Toyota develop a jet? (If so it will likely be reliable) and much more.

Volume 4 Issue 11 Crossed wires cause accident. (Easy to do and can be hard to detect) Airline reviews maintenance. (So would I with a 10 million fine hanging over my head) Manslaughter and negligence sentences upheld. (When 118 people die, they just have to blame someone) How to minimize jet lag. (Teleconferencing?) And much more on Fatigue our # 1 enemy and more.

Volume 4 Issue 10 Tissue's the issue. (Amazing how simple things can have grave consequences) Falling piece was aircraft maintenance device. (Just be glad that it didn't kill someone) FAA criticized in report on airplane parts. FAA proposes record $10 million fine. (That's a lot of money for an error that they reported on themselves) Help wanted: Airplane mechanics. (I wonder why?? My son earns more as an auto body repairman and has never had to work midnights) and much more including more info on Fatigue.

Volume 4 Issue 9 DC-9 runs amok. (Not the first time that has happened) Hurry up errors. Jet slides off runway. Venezuela plane crash leaves 46 dead. Pilot fired for buzzing airport. All clear given prematurely. (It was not all clear) Safety procedures not followed. (even trains can kill) and much more.

Volume 4 Issue 8 Poor maintenance causes fatal helicopter crash. (Pity that it so often takes a crash to discover this) Airline suspends pilots who over flew airport. (When the body says you are going to sleep, you will) Qantas Safety record under threat. (This is publicity that no airline wants) Fasten your seatbelt. (Check out the survival seating chart) And a lot more.

Volume 4 Issue 7 ATR accident report. (Stores contributed to this one along with a lot of others) Dangerous planes flew for years. (Maintenance sure contributed to this one) Icing linked to crash. (Way too soon to tell) Demand for better aircraft maintenance. (All for that) Human error causes cruise ship to tilt. (Other forms of transportation have their human error problems as well) More on Fatigue and other useful material.

Volume 4 Issue 6 Worker killed on tarmac. (Another unnecessary loss of life) Aircraft loses engine. (A simple maintenance error proves costly) Aircraft engineer charged with forgery (And so he should be) Four plane wreck at airport. (Sure hope maintenance wasn't involved) and much more. Thanks Roger

Volume 4 Issue 5 Investigators look at fuel system. (Something caused the loss of power) World airline accidents in 2007. (Maintenance is in there as a contributor) Qantas probe finds more faults. (What one clogged drain and a cracked tray can do) Ageing electrics cause Safety problems. (Most of today's aircraft are "fly by wire") and much more.

Volume 4 Issue 4 Pilot a hero at Heathrow. (I sure hope that it stays that way) Pilots deceived by fuel gauge. (Maintenance error set them up) Baggage door open fatal. (Maintenance or Pilot error?) Training lowers pilot error. (Sure agree with that one. Works for maintenance also) Medical Students learn how to prevent errors and much more.

Volume 4 Issue 3 Fight between pilot & mechanic halts fight. (So much for teamwork but who won?) B 737 strikes car. runway accidents linked to Human Error. (That should come as no surprise) Australian Gov't lobs shot at engine manufacturers (Note the 12 contributing factors - they look very familiar) and lots more.

Volume 4 Issue 2 Airline fatal events 2007. (Better but still too high) FAA boosts wiring safety. (More maintenance inspections is a great safety net) Shortage of AMEs (Try paying them what they're worth would help) Controller error due to fatigue. (7 straight days and in double overtime does that to you) Hard hats - A good knight idea. (Long overdue) Head injury numbers. (These should make a believer out of you) and much more.

Volume 4 Issue 1 Wrong gas pumped in. (Fortunately the system wasn't used or maintenance could have been responsible for a lot of fatalities) Engine blast peppers fuselage. String of blunders doom crew. (Often known as the Chain of Events) Safety Culture can reduce Human Error. (Cliff Edwards sure has that right) Hearing loss risk. Midnight shift nugget (Some good stuff here) and much more
2008
Once more our thanks go out to Roger Hughes & jetBlue for this excellent Safety information. May everyone have a Safe 2008
Volume 3 Issue 46 Air France crash report out. (Human error once more) Flight attendant blown out of aircraft. (Lucky it was still on the ground but there's a design flaw here) Safety Issues. (Training is a Safety net that it doesn't pay to put holes in) Africa - Highest number of accidents. (Africa, sadly, lacks a Safety culture) and much more
Merry Christmas to all and a Safe 2008 Gordon & Roger


Volume 3 Issue 45 NTSB adds Worker Fatigue to "Most Wanted" list. (It's time we recognize its dangerous contribution to human error) Air Transat rudder loss report is out. (Maintenance failed the tap test) MD-90 loses 3 meter long part on takeoff. (They called it a mistake in the workshop) A lot more on fatigue and more.

2007
Thanks Roger & jetBlue for a great year of Safety information. Happy 2007
2006
May your new year be a Safe one. Gordon & Roger
Volume 1 Issue 3 Industry briefs, Exercise and work performance, Causes of plane crashes and more airline maintenance oversight needed

Volume 1 Issue 2 Runway near misses a Safety concern, How much is enough caffeine, Plane pieces combed for clues, Air drama as jets near collide

Volume 1 Issue 1 Air France crash in Toronto, Nigeria Safety, Cargo jet take off on Taxiway and Runway near misses